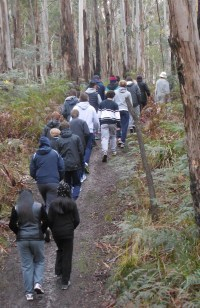 Every boy in the senior school at St Kevin's takes part in a retreat every year. In Year 7, the retreat day introduces boys to Edmund Rice and the spirituality of the school and in Year 8 it takes them into the history of our faith community, including a visit to both the streets familiar to Mary Mackillop as well as St Patrick's Cathedral. In Year 9 we are glad of the help of mentors from Year 11 as we think about some of the challenges we meet as young men developing and maturing in life and faith.
A previous global head of the Christian Brothers, Br Philip Pinto, speaks often about moving to the edges of society in order to find Christ. Over the last couple of years, our Year 10 boys have been involved in a day-long retreat experience which involves spending time in parts of Melbourne they seldom see. In particular, they visit areas with significant groups of recently arrived refugees, hear the stories of these people as well as people who have spent time in the prison system, young people who face homeless and from some local Indigenous leaders. The day also involves lunch in one of those fine cafes which bear witness to the cultural brew which produces such delicacies as 'kangaroo with satay sauce.'
One of the great events on the spiritual calendar at St Kevin's is the annual Year Eleven Retreat, known affectionately as the Christian Living Retreat. In the middle of August, about 500 students and 50 teachers head off to nine separate venues for three days of prayer and reflection. The focus of the retreat is on developing adult relationships and this means making decisions about the way we relate to our family, ourselves, members of the other gender and most of all the way we relate to God. They are wonderful days and a privilege to share with our young people, the overwhelming majority of whom welcome the experience with openness and generous hearts. Staff and students all speak about how retreats such as this enlarge both their faith and their sense of life's possibilities. St Kevin's is grateful to Loreto Mandeville Hall and Sacre Coeur for sharing this adventure with us.
The annual retreat for Year 12 at Newman College is a time to bring the group together at the start of the year and challenge them once again to develop a vision that is larger than themselves and, as we visit Melbourne General Cemetery, larger even than life.
We don't believe in an abstract God. Our retreat program challenges boys at every year level to form a relationship with God as the most life-giving way to take their place in the real world.