Childrens' STAR Camp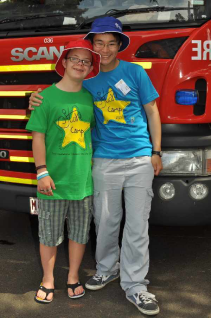 Genazzano College, Loreto Mandeville Hall, St Kevin's College and Xavier College take great pleasure in holding a three day holiday camp for children with physical and intellectual disabilities. We aim:
To provide a fun camp for children with disabilities at no cost to parents.
To provide children opportunities they might not otherwise experience.
To offer respite care to families.
To offer our senior students an opportunity to serve others.
The success of our camp is the result of the support of many generous people who contribute in many different ways. We are particularly grateful to the SONY Foundation, our major sponsor, who make a significant financial contribution. We plan to accommodate 30 campers, boys and girls between the age of 5 and 15 who have intellectual and physical disabilities. Medical facilities of the highest standard are available at the Camp. We have registered nurses on duty each shift and Doctors on call 24 hours a day. We pride ourselves on our companions. Each applicant is interviewed and selected with great care. The companions consider the experience a privilege and learn so much about children with disabilities and about themselves. Along with the nurses, the companions are supported in their role by a number of teaching staff from the six schools.